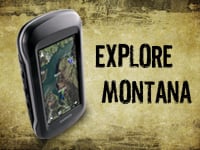 Navigation behemoth Garmin is reasserting its GPS dominance with the release of its new Montana range. Taking its name from America's mountainous 'Treasure State' the Garmin Montana has been built to withstand the world's most extreme terrain and embodies the all American philosophy that 'bigger is better'. For a handheld GPS, Montana certainly is big but Garmin have made great use of the addition space, cramming in a huge number of features and enhancements.
Montana's most immediately obvious selling point is its amazing screen. Measuring a whopping 4 inches diagonally across, the touch screen can display information more clearly than any other GPS on the market and is both sunlight readable and glove friendly. Bearing in mind that the previous top-of-the-line models the GPDMAP 62 and Oregon 450 measured a mere 2.6 and 3 inches respectively, the Montana's extra inch qualifies it as the IMAX of the GPS world, with eye-popping hi-res graphics to boot.
The new Montana also resolves the battery-life issues that plague GPS users by incorporating a rechargeable back-up power supply. Although, like its predecessors Oregon and GPSMAP 62, Montana uses AA batteries as its main power supply- giving a purported 22hrs power- the rechargeable add-on gives a further 16hrs once the Duracell bunny's cymbals fall silent- a total of 38hrs. The battery back can be connected to solar charger and other portable power supplies enabling you to navigate the wilds for long as you like without the need to return to a plug socket or anything approaching civilization.
Another of Montana's strong points is its versatility. Whether you're on foot, in a car, motorcycling or even in a boat, Montana has the technology to navigate to your destination with total accuracy. Hotfix technology, so successfully employed with the Oregon and GPSMAP 62, makes another appearance with the Montana to give a satellite connection you can rely on.
In a car or on a motorbike, Garmin's City Navigator software turns your device into a super-accurate motoring GPS with an easy-to-understand display and turn-by-turn voice prompts. Plug in some headphones and you can enjoy the Montana's seductively authoritarian tones inside your motorcycle helmet or out on the hills- great for warding off loneliness on long solo jaunts.
Most importantly for a high-end GPS device, the Montana's mapping capabilities are second to none (doubly so for the Montana 650T with its topographic Europe-wide base map). Not only is it compatible with the extensive range of Garmin maps already available but also comes with 'Birdseye' technology which coats your device in delicious breadcrumbs to provide you with a delicious meal. Only joking…Birdseye technology is in fact a nifty bit of software developed by Garmin enabling you to scan paper maps and then overlay them onto Google maps to create your own raster maps. According to Garmin this enables you to 'go paperless'- but as any true outdoors person knows, it is never a good idea to venture out without the back-up of a paper map, no matter how rugged or versatile your GPS might be.
Those who can't get enough of the outdoors will be pleased to know that the fun doesn't stop when you're back at home. Hook your Montana up to Garmin's free-to-download BaseCamp software and you'll be able to plan future roots and analyse data gathered on your trip in minute/borderline obsessive detail. The Montana's huge 3GB allows you to store an unprecedented 4000 waypoints and as many geo-tagged images as you're ever likely to need- users of the 650 and 650T will also be able to take their own geo-tag photos using the 5 megapixel camera built into the device. Geo-tags can be uploaded to Garmin Base Camp online to share with other adventurers who can use your geo-tags when creating their own routes- it's great for geo-caching too.